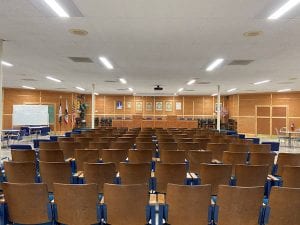 Local 389 has resumed monthly general membership business meetings since June. We have now had three meetings in a row in which quorum was not met. Monthly meetings are essential to conduct business and allow members to have a vote on how business is conducted. Vital information about the Local and the shops we represent are shared at these meetings as well. If we cannot meet quorum, monthly business at the local cannot be conducted.
Please try to make at least a meeting or two a year. If all members can make at least one meeting, we should never have a problem meeting the quorum. The Kearny Mesa Hall is large enough to practice safe distancing and all who attend are required to wear a mask inside the hall. We will be giving away T-Shirts to those that attend this month's meeting as well.
Stewards need to know that these meetings count toward the requirement to hold a steward position within the local, so don't let too many pass you by and fall behind your requirement to hold the position.
This month's meeting will be held on September 1, 2021 at 4:00pm at 5150 Kearny Mesa Rd,. San Diego, CA 92111.