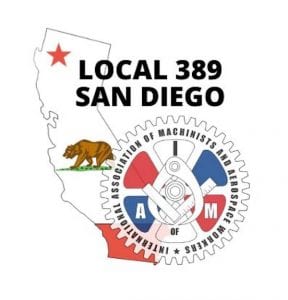 International Association of Machinists and Aerospace Workers Local Lodge 389 is announcing dates and special protocols for officer and delegates nominations and election. Due to Coronavirus restrictions on groups and gatherings, a special meeting for nominations will be held on Wednesday, January 6, 2021 at the Kearny Mesa Hall from 4-5pm. Members will be able to nominate officers and delegates in safe, clean conditions at the hall. Only one member will be allowed in the hall at a time to nominate. Those waiting will be required to wait outside and socially distance until it is their turn. Masks will be required at all times and hand sanitizer will be available to those that want to use it.
Nominees must be present to accept their nominations. Those that have concerns regarding Covid-19 may send a letter to the Recording Secretary (Recording Secretary Local 389, 5150 Kearny Mesa Rd, San Diego, CA 92111) or email (iamawll389@gmail.com) stating they will accept nomination. Letters or emails must be received prior to January 6, 2021.
The election will be held February 3, 2021 at the Kearny Mesa Hall from 4pm-5pm with the same Covid protocols used for the nomination process. If Coronavirus restrictions have bee lifted by state and local health departments, the nominations and elections will be conducted during regular general membership meetings on the the same dates listed above.
The flyer below can be downloaded here.
[pdf-embedder url="https://iamlocal389.org/wp-content/uploads/2020/11/GRAND-LODGE-DELEGATE-SPECIAL-NOMINATION-PROCESS.pdf" title="GRAND LODGE DELEGATE SPECIAL NOMINATION PROCESS"]