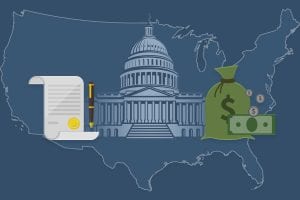 The IAM is joining 106 members of Congress in calling for labor unions to be included in the Paycheck Protection Program (PPP), a loan program aiding small business and non-profits during the COVID-19 crisis.
Led by U.S. Reps. Alan Lowenthal (D-CA), Judy Chu (D-CA) and Sylvia Garcia (D-TX), the letter to House leadership points out that while faith-based non-profit institutions are among the program's beneficiaries, labor unions have been excluded.
The loan program blocks 501(c)5 organizations, such as labor unions, from applying for loans, while allowing 501(c)3 organizations, like the right-wing Heritage Foundation, CATO Institute and American Legislative Exchange Council (ALEC), to benefit from the program.
Labor unions, the lawmakers write, are critical to making sure America's workers have equal access to recovery funds made possible by the CARES Act.
"Congress must ensure labor unions can continue to do the crucial work of representing and fighting for rights of workers," the lawmakers wrote. "Unions and their members will be crucial actors in our economic recovery, and we urge you to include them as eligible entities for federal support in programs like the PPP."