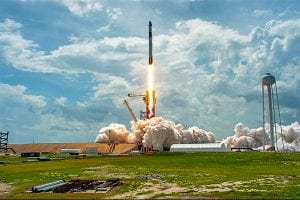 A new era in manned space flight began after last week's successful launch of the SpaceX Falcon 9 rocket and Crew Dragon from the historic Kennedy Space Center in Cape Canaveral, FL. For the first time in almost a decade, American astronauts launched from American soil in an American spacecraft. The Machinists of Local 2061 played a large part in making this a reality and couldn't have been prouder when lift off took place on Saturday, March 30, 2020 and once again, the IAM became a part of space history.
"Without a doubt, the machinist members of 2061 are so proud and excited to be part of this launch, as we have since the beginning," said Ed Grabowski, President of Local 2061 which has nearly 600 machinist members who support the space program. "Our local has supported every manned space flight until now and this just takes it to another level. We are excited for the future and you can bet Local 2061 will continue to be here for the duration of manned spaceflight."
"There is no better group than the Machinists to put Americans safely back in orbit. Our members have left their mark on NASA and space exploration since the 1950s and continue to do so today. These strong union jobs have helped to create a community of expertise rarely found. It is an honor to see the men and women of our union helping to once again write the history of our space program," said Southern Territory General Vice President Rickey Wallace.
"Thousands of IAM members have proudly dedicated their talent and skill to helping our space program push the boundaries of exploration," said IAM International President Robert Martinez Jr. "We are honored to a part of this latest milestone, and look forward to many more in the years and decades to come."
Coined NASA's SpaceX Demo-2, this mission is an end to end test flight of a new transportation system manned by NASA astronauts Robert Behnken and Douglas Hurley. The goal is for this to be a major step in the right direction for NASA's Commercial Crew Program.
"This is a new opportunity for a new future in the space industry. And the best part is that it's happening right here, on American soil, in our county, creating and supporting good machinist jobs that help this community," explains Grabowski.
From life support technicians to fuel handlers to machine shop workers, the expertise of the Machinists can be found at almost every level of this mission. It makes sense since IAM members have been assisting in the success of this country's space program since its beginning.
"To paraphrase one of the most notable astronauts in history, this is just another giant step for mankind in opening gateways to bigger things, such as extensive exploration of the Moon and Mars. It is a momentous point of pride with our members. This launch puts the U.S.A. back on the map when it comes to the space industry," said IAM District 166 Assistant Directing Business Representative Kevin DiMeco.
Although it has been a much more muted affair happening in this new world of social distancing and COVID-19, when the countdown clock reached its destination and a successful launch was had, IAM members were proud.
"I've got about thirty years working for the space program and let me say, there's something special about manned space flights. There's just no equal to the way it pumps you up, the excitement it brings," said Grabowski.
With a successful docking to the International Space Station and safe return back to Earth, this mission will ensure that SpaceX's transportation system can be used for regular crew flights in the future. A future that promises to involve the hearts and hands of IAM members along the Space Coast.