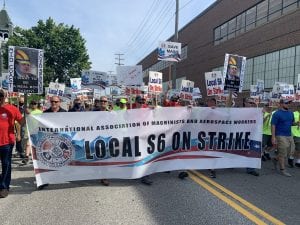 As the strike of 4,300 IAM Local S6 members at Bath Iron Works, a General Dynamics subsidiary, enters a sixth week, U.S. Reps. Jared Golden and Chellie Pingree are asking the U.S. Navy to clarify its position on the expanded use of subcontracting at the shipyard. The work stoppage is the largest active strike in the United States.
Bath Iron Works management has both implicitly and explicitly told IAM negotiators that the Navy has pushed for more subcontracting at the Bath shipyard.
The expired Local S6 contract allowed for subcontracting after a joint review period between the company and union. Local S6 negotiators had proposed shortening the review period, but the company has insisted on a blank check to outsource Maine jobs, resulting in 87 percent of the membership voting to go on strike beginning June 22.
"We have significant concerns regarding the effect of subcontracting on the current BIW workforce, as well as its potential long-term impact on the recruitment and retention of Mainers to the shipbuilding industry," write Golden and Pingree in a July 27 letter.
Specifically, the lawmakers are asking Navy Secretary Kenneth Braithwaite if the Navy is pushing BIW to subcontract and if the Navy has a policy regarding its involvement in contract negotiations.
IAM Local S6 president Chris Wiers on July 17 sent a letter to the Navy asking for clarification on subcontracting at BIW. The IAM has not received a response from the Navy as of July 28.
"We are so thankful that Reps. Golden and Pingree have been outspoken in standing up for our membership and for protecting good Maine jobs," said IAM International President Robert Martinez Jr. "Every taxpayer in the state of Maine should be outraged that Bath Iron Works is taking a $45 million tax credit while its own employees are on the street fighting for those dollars to be spent on Maine families."