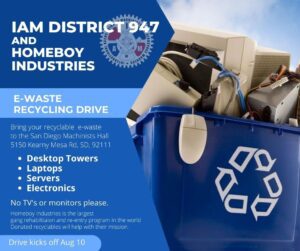 International Association of Machinists and Aerospace Workers District 947 and Homeboy Industries are kicking off an E-waste recycling drive set to kick off August 10, 2022. We are looking for items people are able to recycle such as laptops, desk top computer towers, servers, smart phones and other electronics that can be refurbished and repurposed to aid Homeboy industries in their mission. We will not be accepting TVs or monitors at this time. There will be drop off locations in San Diego and Los Angeles area for the e-waste.
Homeboy industries is the largest gang rehabilitation and re-entry program in the world. They provide hope, training, and support to formerly gang-involved and previously incarcerated people, allowing them to redirect their lives and become contributing members of our community. For more information about Homeboy Industries click here.
For additional information about the e-waste drive, call Business Representative Brian Steinrichter at (619)453-1851.