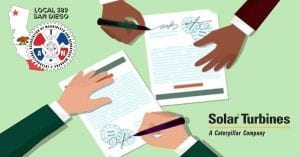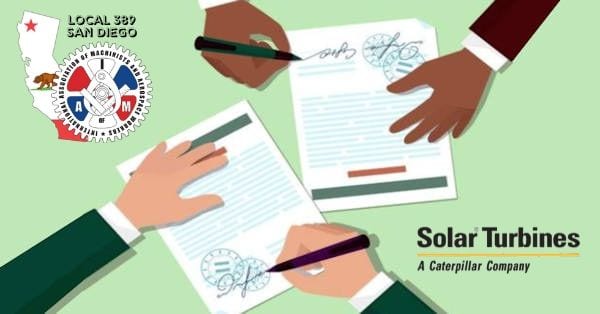 Negotiations between International Association of Machinists and Aerospace Workers Local 389 and Solar Turbines have closed with a total tentative agreement reached. The membership must now vote to approve or reject the agreement with a vote. The vote is scheduled for Friday, September 18, 2020 at the Kearny Mesa Hall (5150 Kearny Mesa Rd., San Diego, CA 92111) from 6:30am-5:00pm. Members working second shift will need to vote prior to the start of their shift.
A summary of what has changed in the contract will be provided to members prior to casting their vote at the voting location. Information will not be available prior to the polls opening. Masks will be required and social distancing guidelines will be enforced. Union masks will be given to members that have not yet received one.
Only members of the union may vote to ratify the contract, but non-members will be eligible to vote as long as they join the IAM prior to voting. This option will be available to non-members at the polling location. Non-members will have access to the contract summary information once they fill out their application. Applications are also available before the vote on this web page under the "join" tab and through shop stewards.
Thanks to all the members that, through their support, strength and solidarity have made this contract process possible. We must continue to build that strength and remain involved to keep our union strong. Participation in the union does not end with the ratification of a contract. Continued participation and work place union awareness is vital for contracts to come.
Downloadable version of the flyer can be found here.
Ratification Flyer 0915