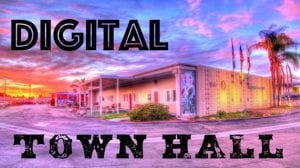 On Wednesday, July 8, Local Lodge 389 hosted our first ever virtual town hall. Due to the ongoing Coronavirus crisis we were unable to hold the town hall at the Kearny Mesa Hall so the decision was made to conduct the meeting on line. IAM Western Territory Chief of Staff Bobby Martinez and District Lodge 947 President/Directing Business Representative Sal Vasquez joined the meeting remotely and the Local Lodge Bargaining Committee was at the hall to answer questions from viewers. Your bargaining committee members are Business Representative Butch Bowley, Chief Shop Steward for Harbor Drive Darrin Williamson, Chief Shop Steward for Kearny Mesa Antonio Guerrero and Local 389 Recording Secretary/ Communicator Brian Steinrichter. Western Territory Organizing Lead Joe Solis conducted the meeting and facilitated the virtual town hall on line.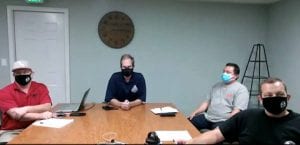 Members were given the opportunity to ask questions live or text their questions to any of the speakers. The speakers also made remarks about the importance of organizing and building power for the upcoming contract negotiations. Information was provided on how to access the local's different communications platforms to stay updated on negotiations. Questions from the members participating in the town hall included essential worker pay, the recovery of Kaiser as our medical benefits provider, safety team lead pay and more.
To hear Chief of Staff Bobby Martinez's comments click here.
To hear PDBR Sal Vasquez's comments click here.
To hear the Q&A session between members and the Bargaining Committee click here.
We plan on holding more town hall meetings like this one in the future. Be sure to check your mail, email and our communication sites for information and invites to our next town hall. It is unknown at this time if the meetings will be held at the hall or will be conducted virtually. If you have questions or comments about this town hall, upcoming contract negotiations, organizing or any other union matters, please message us through the "contact" tab on this site. Remember to wear union gear on Fridays in solidarity.