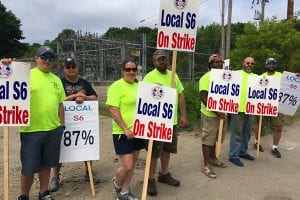 As the IAM's campaign for a fair contract for more than 4,300 Local S6 shipbuilders in Maine continues, Bath Iron Works has decided to attempt to break the strike by calling in temporary workers.
Local S6 members, who have the support of more than 600,000 IAM members across North America, will not be deterred, said IAM International President Robert Martinez Jr.
"This is further proof that BIW has no intention of bargaining in good faith," said Martinez. "We are outraged that this company would further expand its use of low-wage subcontracting. It's a slap in the face to more than 4,300 IAM Local S6 shipbuilders who have worked through a pandemic and for generations to make this company successful."
IAM Local S6 members have been on strike since June 22, after soundly rejected a contract that would have expanded the use of out-of-state, low-wage subcontractors at the shipyard.
TAKE ACTION: Sign the petition telling BIW President Dirk Lesko to get back to the bargaining table.
"Maine taxpayers, and the U.S. Navy, should be livid that a corporation is jeopardizing its commitment to our servicemen and women by taking tax breaks while engaging in a scorched earth campaign against its own employees," said Martinez. "We will continue to support our Brothers and Sisters on strike to preserve good, middle-class jobs for themselves, their communities and the entire state of Maine. We stand ready today to negotiate a contract that respects the dignity of our members at IAM Local S6 by ending the expansion of subcontracting."
The workers have a long history of building some of the best war ships for the U.S. Navy, prompting a World War II slogan, "Bath Built is Best Built."
READ: Shipyard hiring temporary workers; mediation next week The Associated Press
"The men and women of Local S6 built this company, and we will not allow outside contractors to take our jobs," said IAM Eastern Territory General Vice President Jimmy Conigliaro Sr. "Bath Iron Works should use every resource they have to negotiate an agreement that these workers have earned."
"The company said they need an answer that will allow them to succeed," said IAM Local S6 President Chris Wiers. "The use of subcontractors will not succeed. They need to listen to the workers. They know how to build the ships."
For several months, members have worked through the COVID-19 pandemic, risking their health and that of their families to support national security, while the company has enjoyed tax incentives, increased revenue and soaring profits.
If you would like to help our brothers and sisters at Local S6 with strike fund assistance click here.