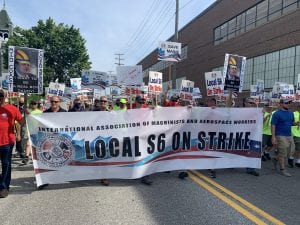 The IAM Local S6 negotiating committee, representing more than 4,300 shipbuilders at Bath Iron Works in Maine, has reached a tentative contract agreement with the company, a General Dynamics subsidiary that builds ships for the U.S. Navy. The agreement keeps existing subcontracting language and protects seniority, the top issues that forced 87 percent of Local S6 members to reject the previous contract and begin the largest strike in the United States on June 22.
"I am so proud of our IAM Local S6 membership for standing strong to protect their families, their collective bargaining agreement and their jobs," said IAM International President Robert Martinez Jr. "I look forward to our membership doing what they do best—building the best ships in the world for the U.S. Navy. I'd like to extend my appreciation to IAM Grand Lodge Representative Dave Sullivan, the Local S6 leadership and negotiating committee, IAM District 4 representatives, and all the allies we had in this fight."
The tentative three-year agreement, reached late in the evening on Friday, August 7, is being unanimously recommended by the Local S6 negotiating committee. Local S6 members will receive the contract in the mail and vote online and via phone from August 21-23.
"What we were able to accomplish at the negotiating table is a testament to the strength and solidarity of our membership," said IAM Local S6 President Chris Wiers. "They were educated on the issues and our negotiating committee knew they had the backing of our membership. I am incredibly proud of our entire team and we're excited to get back to work building the best ships in the world for the U.S. Navy."
IAM Local S6 members received significant support from elected officials and the community for the duration of the nearly eight week strike, especially from U.S. Reps. Jared Golden and Chellie Pingree, who publicly supported Local S6 several times. State Senate President Troy Jackson and State House Speaker Sara Gideon also supported Local S6 members.
Federal mediators helped both sides come to an agreement last week.
"I commend our Local S6 membership for holding out for the good of themselves and their families and making sure they got a fair deal to keep these jobs in Maine," said IAM Eastern Territory General Vice President Jimmy Conigliaro Sr. "We helped build this shipyard and I am glad that going forward we are making sure it stays in the hands of the members who built it. It goes to show that when we sit down and negotiate, the IAM gets the job done."
READ: Shipyard, union reach tentative deal to end strike in Maine Associated Press
"I want to commend the entire membership of Local S6 for their solidarity throughout this strike," said IAM General Vice President Brian Bryant. "Their strength and resilience allowed the negotiating committee to bring back this agreement. Their solidarity was an inspiring display of the true spirit of the labor movement and the Fighting Machinists."
READ: Union claims victory on major issues in proposed contract with Bath Iron Works News Center Maine
"I am so proud of the men and women of Local S6 who build the best ships in the world for the U.S. Navy," said IAM Grand Lodge Representative Dave Sullivan. "Our skilled workforce is proud to help protect our country and deserve to have a fair contract. As lead negotiator, I couldn't be more proud of the time and effort our committee put into getting a fair contract proposal for our membership. We appreciate the hard work of the FMCS mediators and the company negotiators for working around the clock to get this done for everyone involved."