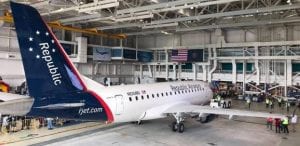 The International Association of Machinists and Aerospace Workers (IAM) today filed an application for a representation election at the National Mediation Board (NMB) in Washington D.C. The filing comes after approximately a 10-month campaign, spearheaded by over 500 Republic Airways mechanic and related employees across the country, to gain IAM representation.
Republic mechanics last year sought IAM representation due to various inequities facing the workforce, including a lack of job protection, seniority rights and work rules and inferior pay and benefit levels.
"Over 600,000 active and retired IAM members, including tens of thousands of highly skilled aircraft mechanics, support and applaud Republic aircraft mechanics' brave effort to unionize with the IAM," said General Vice President, and aircraft mechanic, Sito Pantoja. "Republic mechanics can count on the IAM's full power and resources to bring this campaign to a successful conclusion."
Republic Airways mechanics and related workers maintain a fleet of over 200 Embraer 170 and 175 aircraft. The carrier provides regional service for United, American and Delta and is a vital component of our nation's air transportation system.
"The IAM has negotiated the best contracts in the airline industry, and after Republic mechanics vote yes for the IAM, we plan on ensuring that Republic mechanics attain a fair contract that recognizes the contributions that this highly skilled workforce has made to Republic Airways," continued Pantoja.