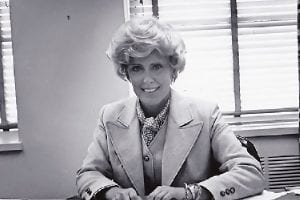 Dorothy "Dottie" Ellsworth-Gannon, a longtime fixture on the IAM's legislative and political team, passed away on February 20, 2020. Ellsworth-Gannon, 91, worked for the IAM for 22 years.
Her IAM career began in 1977 when Ellsworth-Gannon was hired as a legislative representative. From 1981 until her retirement in 1999, Ellsworth-Gannon served as assistant director for the IAM's Legislative Department and the Machinists Non-Partisan Political League (MNPL).
Ellsworth-Gannon was extremely proud of legislation she advocated for on behalf of working people, including the Disabilities Act, the Clean Water Act, and changing the federal voting age to 18.
Before her IAM career, Ellsworth-Gannon worked in the offices of several members of Congress and for many political campaigns, helping to foster her interest in research about how what happens in Washington, DC affects working people. She joined the labor movement in 1963 as an executive secretary for the Seafarers International Union and in 1966 moved to the Brotherhood of Railway-Airline Clerks as a member of the legislative staff.
After her retirement, Ellsworth-Gannon moved to Denver to be closer to family, where she volunteered with the Colorado Senior Lobby, working on bills and policies to help seniors.
"Sister Dottie was an extremely kind woman who fought tirelessly for our membership," said IAM International President Robert Martinez Jr. "We join many others in sending our thoughts to her family and friends. Her legacy will live on as we continue the fight for justice on the job for working people everywhere."