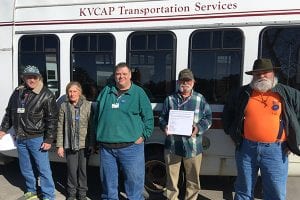 Transport drivers for the Kennebec Valley Community Action Partners (KVCAP) program in Augusta, ME voted overwhelmingly to ratify their first agreement with the agency. The drivers provide transportation for low-income Mainers to medical appointments, drug treatment and work and will be members of Local S-89, District Lodge 4.
The drivers reached out to the Machinists Union for information and quickly voted for union representation. The new members formed a bargaining committee from there and worked to negotiate their first contract with KVCAP.
The new two-year accord features over a $1.50 an hour wage increase over the life of the deal, a signing bonus, reinstated annual holidays and most importantly a new safety committee to address vehicle concerns. Many of the drivers sought IAM representation to have more influence in KVCAP decisions and improve working conditions and services for clients.
"By banding together, KVCAP drivers will be able to use their collective voice to improve their wages and working conditions and they will have more influence in ensuring safer, more reliable services for the vulnerable populations they serve," said District 4 Directing Business Representative Rick Compher. "My thanks goes out to our staff, ADBR George Edwards, BR Jay Wadleigh, and Local S-89 President Carol Sanborn for their efforts to not only organize the unit, but also a plan to reach the all-important first agreement."
"When working people organize and form a union, everyone benefits," said Eastern Territory General Vice President Jimmy Conigliaro Sr. "These workers understood that if they wanted to make real changes at their company, they had to collectively join together and organize. They did it not only for themselves, but to better serve the passengers, their fellow Mainers, to keep them safe while protecting their own safety."