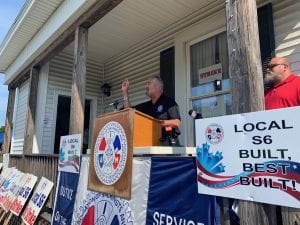 Pressure mounted on Bath Iron Works management at a rally Saturday as 4,300 IAM Local S6 shipbuilders are nearly six weeks into a strike to protect good Maine jobs from being outsourced.
IAM International President Robert Martinez Jr. addressed hundreds of Local S6 members, saying that Bath Iron Works, a subsidiary of General Dynamics, "is showing the nation what corporate greed looks like."
"This company is taking our Maine jobs and subcontracting them to outside contractors who take their paychecks back to Alabama, Mississippi and other places outside our state," said Martinez. "I think we need to stand up and question [BIW President] Dirk Lesko on this $45 million tax break."
Martinez, a U.S. Navy veteran, was joined by IAM General Vice President Brian Bryant, a former president of IAM Local S6 and District 4, and current S6 President Chris Wiers. Maine House Speaker Sara Gideon and State Senator Eloise Vitelli also spoke in support of Local S6 members at the rally.
Gideon and State Senator Eloise Vitelli also spoke to Local S6 members and gave their strong support. U.S. Reps. Jared Golden and Chellie Pingree issued letters of support for the membership at the rally.
IAM State Senate President Troy Jackson, Gideon and U.S. Sen. Susan Collins also visited the strike line on Friday, July 24.
The IAM has questioned BIW's claim that the U.S. Navy is endorsing subcontracting at the shipyard, and asked Congress and President Trump to intervene to get Bath Iron Works back to the negotiating table.
IAM members began the strike on June 22 after overwhelmingly turning down a contract that would have allowed the company to greatly expand its use of out-of-state contractors, without any recourse for the union. The expired shipyard contract allowed for subcontracting after a joint review period by the union and company. BIW is now seeking a blank check to subcontract additional work with no input from union workers.
BIW has refused to return to the bargaining table with the IAM, despite being six months behind its delivery of destroyers to the U.S. Navy.
"I think it is disgraceful that this company would twist the words of the U.S. Navy so they can outsource our work," said Martinez. "These are the best ships in the world and they are built right here by our members."