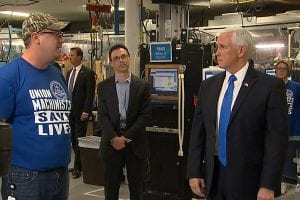 Media Contact:
LaToya Egwuekwe-Smith
legwuekwe@iamaw.org
(815) 404-1710
FOR IMMEDIATE RELEASE
Madison, Wisc., Tuesday, April 21, 2020 – The International Association of Machinists and Aerospace Workers (IAM) has released the following statement in response to U.S. Vice President Mike Pence's visit with IAM Local 1406 members at GE Healthcare in Madison, Wisc. The nearly 450 workers – who build anesthesia, respiratory and infant care machines – ratified a one-year emergency contract extension last month in a lightning fast attempt to meet the sudden increased demand for ventilators across the globe due to the COVID-19 pandemic.
"The Machinists Union members at GE Healthcare in Madison are working-class heroes who are saving lives," said IAM District 10 Directing Business Representative Alex Hoekstra. "The respect and gratitude I have for these workers is one thing I'm sure the Vice President and I have in common.  While Trump and his administration were caught flat footed by this pandemic, IAM Local 1406 members hit the ground running and will continue their marathon until the work is done."
"IAM Local 1406 members at GE Healthcare in Madison are the real unsung heroes of this pandemic," said IAM Midwest Territory General Vice President Steve Galloway. "The support they're providing doctors, nurses and health professionals during this time is extraordinary and unprecedented. While we hope the Vice President enjoyed his visit and seeing firsthand the world-class ventilators IAM members produce day-in and day-out, our members' dedication and working-class sacrifices run far deeper than any photo opportunity and should be remembered after the dust of COVID-19 settles."
"The true heroes of this pandemic are people like our IAM Local 1406 members in Madison," said IAM International President Robert Martinez Jr. "Day in and day out, they are doing the work that is saving lives and getting us closer to the end of this crisis. We owe each and every one of them, and all working people on the frontlines fighting this disease, a great debt of gratitude."

About the IAMAW
The International Association of Machinists and Aerospace Workers (IAMAW) is among the largest industrial trade unions in North America and represents nearly 600,000 active and retired members in manufacturing, aerospace, transportation, shipbuilding, woodworking and other industries. For more information, visit www.GoIAM.org.
###