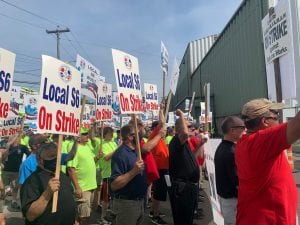 BATH, Maine, Aug. 23, 2020 – More than 4,300 IAM Local S6 members at Bath Iron Works, a subsidiary of General Dynamics, have voted 87 percent to ratify a three-year collective bargaining agreement at the Maine shipbuilding company. IAM Local S6 members, who build destroyers for the U.S. Navy, will return to work beginning with third shift on Sunday, Aug. 23.
The approved contract includes strong job protections against expanded subcontracting and preserves seniority rights, the two top issues that forced members to reject the company's previous offer and begin the nation's largest strike nearly 10 weeks ago on June 22.
"IAM Local S6 has shown the world that together working people can stand up and win for themselves, their families and their communities," said IAM International President Robert Martinez Jr. "This fight for dignity, justice and good Maine jobs will go down in the history books of the Machinists Union and all of organized labor. I could not be more proud of our IAM Local S6 membership and negotiating committee, District 4 representatives, Eastern Territory staff and everyone who stood with the IAM and the best shipbuilders in the world. We are also grateful for the Federal Mediation and Conciliation Service and Director Richard Giacolone for helping us get this agreement resolved."
Federal mediators helped both sides reach a tentative agreement on Aug. 7. IAM Local S6 members received the contract in the mail and voted online and by telephone from 12:01 a.m., Friday, Aug. 21 to noon, Sunday, Aug. 23.
"This strike was a testament to the culmination of Local S6 leadership, our negotiating committee and the incredible power of solidarity shown by our membership," said IAM Local S6 President Chris Wiers. "Now that we successfully protected our contract language with respect to subcontracting and seniority, we need to get back to work and continue to prove to the U.S. Navy that 'S6 built is best built.'"
The IAM Local S6 negotiating committee unanimously recommended the improved agreement to the membership.
"I can only salute the Brothers and Sisters who not only stood up for themselves and their families, but for the entire labor movement," said IAM Eastern Territory General Vice President Jimmy Conigliaro Sr. "They made a statement that we will not give into corporate greed or, most of all, disrespect on the job. IAM Local S6 members didn't back down, even when faced with hard times at home without a paycheck for months. I couldn't be more proud of our membership."
IAM Local S6 members received significant support from elected officials and the community for the duration of the strike, especially from U.S. Reps. Jared Golden and Chellie Pingree, who publicly supported Local S6 several times. State Senate President Troy Jackson, State House Speaker Sara Gideon, State Senator Eloise Vitelli and other state and local elected officials also supported Local S6 members.
"The leadership of the Local, the professionalism of the negotiating committee and the solidarity of our members has been remarkable and unwavering throughout these negotiations and strike," said IAM General Vice President Brian Bryant. "Each one was a major factor in successfully reaching a fair agreement with BIW. I want to congratulate our members on this hard earned victory. Their solidarity and sacrifice has paid off."
"This was a strike for the ages," said IAM Grand Lodge Representative Dave Sullivan. "The older generation of Machinists taught the younger generation what solidarity means. Everybody at every level of this union worked together and showed what we can do when we're united. When you're on the right side of history, the sacrifice pays off."
The International Association of Machinists and Aerospace Workers (IAM) is among the largest industrial trade unions in North America and represents nearly 600,000 active and retired members in the manufacturing, aerospace, defense, airlines, transportation, shipbuilding, woodworking, health care, and other industries.