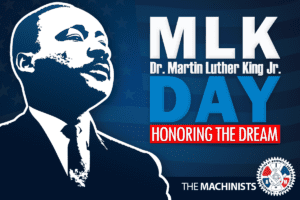 Dear Sisters, Brothers and Friends of the IAM,
This weekend, we honor the life and legacy of an iconic civil rights activist. Dr. Martin Luther King Jr. was an early proponent of voting rights and a tireless advocate for the working class and the oppressed around the world.
I call on you to celebrate the legacy of Dr. King by taking action to secure our right to vote. Please call on your Senators to urge their support to preserve and protect our democracy.
Here's how you can help:
Send a message to your Senators asking them to end the filibuster and support the Freedom to Vote Act and the John Lewis Voting Rights Act.
Call your Senators using our toll-free hotline at 1-877-607-0785.
The Freedom to Vote Act will usher in much-needed changes to election and campaign-finance laws. The John Lewis Voting Rights Act, named for the late Georgia congressman and civil rights icon, will restore the power of the federal government to oversee state voting laws to prevent discrimination against minority voters.
The IAM shares the same ideals as Dr. King, and we stand together stronger because of it. Let's continue to live his legacy each and every day.
In solidarity,
Robert Martinez Jr.
International President