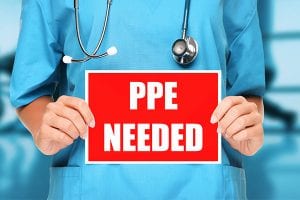 The IAM is urging President Trump to join the union's call for employers to provide personal protective equipment (PPE) to all working people on the frontlines of the COVID-19 crisis. In a letter to the president, IAM International President Robert Martinez Jr. also offers the IAM's cooperation in identifying out-of-work IAM members and shuttered manufacturing facilities to produce medical supplies.
Thousands of IAM members, especially in the aerospace, manufacturing, defense, transportation and healthcare industries, remain on the job during the COVID-19 pandemic.
"In fair, far too many situations our members are being put in harm's way because they do not have the necessary proper personal protective equipment to perform their jobs and be protected from the virus," wrote Martinez. "If our country fails to immediately protect these essential workers, we will fail to contain the COVID-19 pandemic."
The IAM is also advocating for the immediate and full use of the Defense Production Act in order to scale up production of PPE and other medical equipment needed to respond to the national emergency. Since 2016 and prior to the onset of the COVID-19 crisis, more than 50 IAM-represented plants have closed.
"Many IAM-represented manufacturing plants that now sit quiet have the skilled workforce and the capacity to begin producing desperately needed personal protective equipment," wrote Martinez. "The IAM stands ready to work with you to identify companies that can produce the much-needed personal protective equipment."